859: Dissentery Shows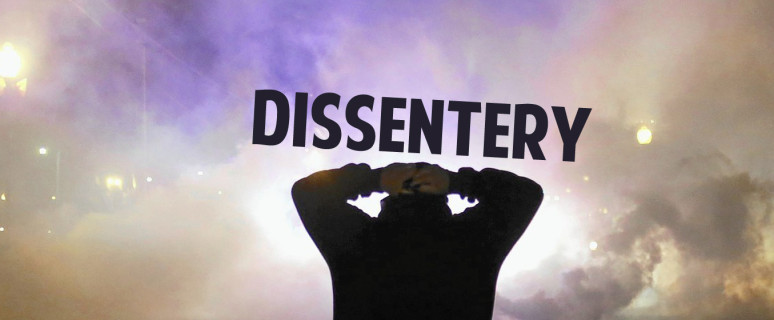 Full Show:
Guests:
Correspondents:
---
Chase Madar: "One the one hand we have the increasing liberalization of lethal violence, on the other hand, crime is going down. More and more people are talking about being less insanely harsh when it comes to criminal punishment."
Writer Chase Madar investigates the splintered psychology of American gun culture – where irrational ideas about risk and threat create more dangerous citizens in a safer world, mass shootings expand gun culture and the arms race between the state and its citizens shoots down the social contract.
Chase wrote the article Have Guns, Will Liberate in the latest issue of The Baffler.
Chase Madar is an attorney, a columnist for Al Jazeera America and author of The Passion of Bradley Manning.
---
Todd Williams: "In June, Hungary came out with billboards all around the city that said 'If you come to Hungary, don't take Hungarian jobs,' and 'If you come to Hungary, you have to respect the culture and rules of Hungary.' But these things were written in Hungarian."
Live from Budapest, Todd Williams explains why Hungary's new fence on the Serbian border is as much about EU bureaucracy as it is border enforcement, and how Viktor Orban's anti-immigrant messaging lost the meme battle to billboard defacers.
Todd will be talking about this fence along the Hungary / Serbia border.
Todd Williams is an African-American from Sacramento, California who has lived in Budapest, Hungary for the past 23 years, mostly by chance. 
---
Sarah Kendzior: "There's sort of an anti-justice system, where a lot of punishment and interrogation tactics are arbitrary. You never know if you're going to become the unfortunate victim of some kind of persecution by the state, and that keeps people on edge. Which is one of the reasons why people are so afraid to speak out. The fact that some are doing so now is really remarkable."
Journalist Sarah Kendzior profiles the rise of the Uzbek social media movement Qorqmaymiz (We are not afraid) and explains the danger the group faces from a repressive state with an arbitrary justice system and roots in Soviet-era surveillance tactics.
Sarah is author of the Foreign Policy article 'We Are Not Afraid' Inside an Uzbek Internet rebellion.
Sarah Kendzior is a St. Louis-based writer, anthropologist and researcher.
---
Micah White: "A great tactic only works once. And one of the lessons for contemporary activists is that we always need to protest in different ways. We should never protest in the same way twice. And the same thing with occupying."
Occupy Wall Street co-creator Micah White looks back to the Occupy movement's roots in Tahrir Square and the Indignados movement, explains why our current generation of protest movements have failed to produce widespread, lasting social change, and looks to the future of democracy, where social movements and political parties span the globe.
Micah's book The End of Protest: A New Playbook for Revolution will be released in Spring 2016.
Micah White is an activist consultant and co-creator of Occupy Wall Street.
---
Brian Hioe: "Can there be transnational solidarity between us in Taiwan and factory workers in China? Can we think beyond the Cold War framework, to the free people of Asia working towards democratic rule rather than domination by capitalism or imperialism or militarism?"
East Asia analyst Brian Hioe reports on two mass protest movements in Asia – one environmental in Shanghai, one constitutional in Tokyo – and explores the challenges to social movements in a region of one-party governments, a political legacy of Cold War authoritarianism and the consuming force of trans-national capitalism.
Brian wrote the recent articles How Could A Demonstration of 50,000 in Shanghai Not Be Reported in International Media? and Article 9 and Japan's Democratic Crisis for New Bloom.
Brian Hioe is a writer and editor at New Bloom.
---
Jeff Dorchen: "We all know how to avoid making babies. From that bodily function there is absolutely no necessity to lay your little human time bombs around – some of whom will one day grow into lumbering nuisances, bad drivers and even Republicans."

Jeff Dorchen was just minding his own business, posting anti-infant propaganda on his Facebook wall, when everyone got all mad. So he balls his lil fists, quivers his tiny lips, and unleashes against all the babies on Earth.
According to his contacts on LinkedIn, Jeff Dorchen can do just about anything. He's a visual artist, songwriter/musician, actor, essayist, poet, playwright and screenwriter.
Comments
comments