831: Chucklist Shows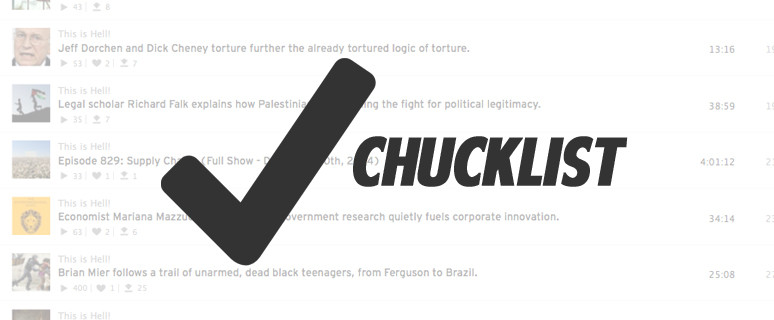 Chuck's favorite interviews from 2014.
Full Show:
Podcast: Play in new window | Download
Guests:
---
Arundhati Roy: "There's been a centrifugal force that this sytem creates. What can it do except increase the gap between the rich and the poor? What can it do except arm the rich to attack the poor?"
It's a lot easier for most of us in America to talk about the excesses of global capitalism when we're still beneficiaries of the system. For billions of people with less geographic luck, capitalism's excesses directly translate to necessity's wants. Arundhati Roy tells some of those stories in her new book is Capitalism: A Ghost Story.
Arundhati talks with Chuck about how democracy went from powerful threat to pointless brand, why India's fascist Prime Minister victimizes his own citizens yet is applauded by audiences of Western suckers, and the damage American NGOs like the Ford Foundation do to Indian domestic politics.
Arundhati Roy is a writer and political activist.
Interview Transcript via AntiDote
---
Rick Perlstein: "In the context of Obamaism, praising Reagan is his attempt to make the lion lay down with the lamb, to say there is 'no red America or blue America.' But that's not what Reagan was about. Reagan, when he came into power, was about blaming all of America's problems on Democrats, generally, and liberals, specifically."
America spent its 200th birthday in a rough place. Nixon finally ended the Vietnam War, Watergate finally ended Nixon, and meat got really expensive. What the country needed was time to consider the damage of foreign adventures and a unitary executive. What the country ended up with a few years later was a leader who made people forget all about it.
Historian Rick Perlstein covers the political landscape of the post-Watergate 1970s in his new book, The Invisible Bridge: The Fall of Nixon and the Rise of Reagan. Rick stops by the studio to talk with Chuck about how Ronald Reagan shaped American conservatism in ways modern conservatives might not be happy to acknowledge, how a myth of consensus-building obscures Reagan's pre-presidential extremism, and the ways the Obama and Reagan presidencies parallel and intersect.
Rick Perlstein is a historian and journalist. He is the author of two previous and huge books on American conservatism, Before the Storm: Barry Goldwater and the Unmaking of the American Consensus and Nixonland: The Rise of a President and the Fracturing of America. There's a book release party for The Invisible Bridge on Tuesday, August 12, at 6 PM at the Seminary Co-op Bookstore in Chicago's Hyde Park neighborhood.
---
Mariana Mazzucato: "We are currently in danger of destroying that apparatus, so these guys will be surfing on nothing, because until now they've been surfing on a wave created by the state."
The iPhone runs on government funded technology – touch screen, voice activation, cellular communication, the internet – Steve Jobs was just really good at putting it all together. Or having low-wage Chinese workers putting it all together. In her new book The Entrepreneurial State: Debunking Public vs. Private Sector Myths, Mariana Mazzucato argues that governments are the agents investing in the long-term research and innovation that lead to corporate profits, and defunding those programs essential defunds a future of innovative Americans. She calls in to talk about the early days of US tech firms, where they got their money and how President Obama got her book.
Mariana Mazzucato is the Reginald M. Phillips Professor in the Economics of Innovation in the Science and Technology Policy Research centre at the University of Sussex. Here's her 2013 TED Talk on governments and innovation.
---
Ray Raphael: "We have a creation of a national story about this unique moment, and that story is what we celebrate – but it's a fabrication. That lie is not particularly destructive, but a lot of other ones are."
In America, we like our Constitution the way we like our Bible – sacred, immutable and barely understood. This makes discussions about the history and future of our democracy harder to talk about, but much easier to yell about. The yelling is fun for a few minutes but doesn't exactly lead to Jefferson's idea of an enlightened citizenry.
Historian Ray Raphael enlightens us on Jefferson's (and other founder's) ideas on citizenry and government in his book Constitutional Myths: What We Get Wrong and How to Get It Right. Ray celebrates the day after the day two days after we should be celebrating American independence by talking with Chuck about what the Tea Party (and everyone else) gets wrong about the founding of the US, why our simplification of history excludes the radical ideas of early American politics, and how the myth of the individual distracts us from the realities of our collective history and future.
Ray Raphael is a writer, historian and senior research fellow at Humboldt State University.
---
Alice Goffman: "We've created an incentive system where in order to stay out of jail, people have to avoid their families and avoid work. It's the opposite of what we'd want the criminal justice system or any government body to be doing to its citizens."
For most people, the inner city exists in abstract. The massive disparities in the wealth, health and incarceration rates of black Americans aren't just economic or social justice stories – they are stories of neighborhoods and families and actual real life people.
Alice Goffman spent six years living and working in a disadvantaged Philadelphia neighborhood to tell its stories in her book On the Run: Fugitive Life in an American City. She talks with Chuck about how surveillance and police aggression hover around life in disadvantaged neighborhoods, "stop snitching" as grassroots resistance movement, and why for many young men, every public place is an arrest waiting to happen.
Alice Goffman is assistant professor of sociology at the University of Wisconsin–Madison.
---
Comments
comments