801: Lock Down, Drag Out Shows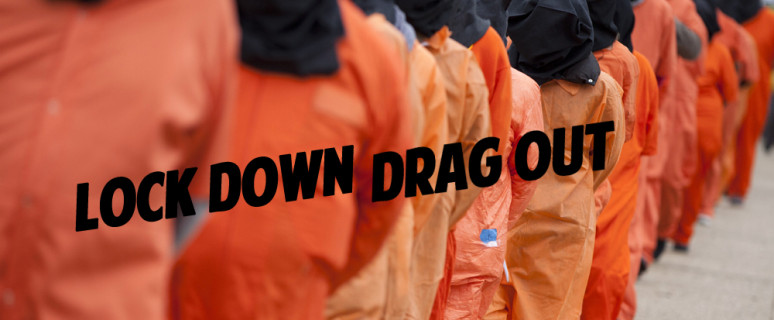 Full Show:
Podcast: Play in new window | Download
Guests:
Correspondents:
---
Greg LeRoy: "Now the state has 1,100 TIF districts, they capture about $1.1 billion in property tax revenue every year – including many places that are hardly blighted. We joke about Highland Park being perhaps the only local government in the US with a TIF district and a Ferrari dealership."
Thomas Cafcas: "TIF is concentrated budgetary power. The mayor gets a hold of these and has a lot of power on how what amounts to 10% of the city's budget gets spent. It sidesteps what would typically happen with public budgets."
Tax increment financing (TIF) plans are used across America to divert billions of property tax dollars away from schools, roads and pensions into the hands of business developers and corporations. A report by Good Jobs First,
Putting Municipal Pension Costs in Context: Chicago, find the city's pension costs are far outweighed by TIF funds, many of which are poorly spent or even unspent and secret.
Greg LeRoy and Thomas Cafcas call in to discuss their report, how a Sears in Hoffman Estates started this problem over 20 years ago, and the growing reliance on TIFs will actually hurt businesses, after it's done hurting cities and the people who live in them.
Greg LeRoy is the executive Director of Good Jobs First, an organization he founded in 1998. He is the author of The Great American Jobs Scam.
Thomas Cafcas is Research Analyst at Good Jobs First.

Good Jobs First / Greg on Twitter / Thomas on Twitter
---
Alice Goffman: "We've created an incentive system where in order to stay out of jail, people have to avoid their families and avoid work. It's the opposite of what we'd want the criminal justice system or any government body to be doing to its citizens."
For most people, the inner city exists in abstract. The massive disparities in the wealth, health and incarceration rates of black Americans aren't just economic or social justice stories – they are stories of neighborhoods and families and actual real life people.
Alice Goffman spent six years living and working in a disadvantaged Philadelphia neighborhood to tell its stories in her book On the Run: Fugitive Life in an American City. She talks with Chuck about how surveillance and police aggression hover around life in disadvantaged neighborhoods, "stop snitching" as grassroots resistance movement, and why for many young men, every public place is an arrest waiting to happen.
Alice Goffman is assistant professor of sociology at the University of Wisconsin–Madison.
---
Scott Horton: "We know these films exist. They're being suppressed and not turned over to the public. And we have very strong reason to believe the reason for their suppression is very simple – they do not support the official government narrative of what happened that evening."
On June 10th, 2006 three men detained at Guantanamo bay stuffed rags down their throats, bound their own hands and somehow hung themselves in their separate cells. That's the government's version of the events. That doesn't make much sense to Scott Horton. It didn't when he first reported on the case in 2010′s Harper's article The Guantánamo "Suicides" and four years later, he's digging new holes in the government's version of the events.
Scott talks with Chuck about his new Harper's article The Guantánamo "Suicides," Revisited, new evidence linking the Obama administration and the CIA to a coverup of the deaths and why government secrecy blocks public discussions about detainment and security.
Scott Horton is a lecturer in law at Columbia Law School and a legal affairs and national security contributor to Harper's magazine.
---
Michelle Chen: "There are people who will take this framework of Fast Food Forward or Fight for Fifteen and turn it into their own franchise. There will be mistakes made, and there will be successes, but as long as people are getting out there and getting into the streets, I say let 10,000 flowers bloom."
On May 15th fast-food workers around the world launched actions in 30 countries, demanding liveable wages more fair working conditions. The hard work of getting paid for hard work began months ago, with organizing campaigns, grassroots recruiting efforts and an international conference. Michelle Chen covered the story, from plans to protest, in her blog post The Fast Food Worker Movement Has Gone Global at The Nation.
Michelle talks with Chuck about the movement's origins, union involvement, self determination, and the future of fast food jobs in America and world wide.
Michelle Chen is a contributing editor at In These Times, a blogger at The Nation, an associate editor at CultureStrike and co-host (with TiH! correspondent Sarah Jaffe) of Dissent's Belabored podcast. Somehow she also has the time to study in the historical doctoral program at City University of New York Graduate Center.
---
Jeff Dorchen makes up a lot of crap but a cheese board in the shape of America with hearts cut out marking the sites of 9/11 terror attacks is beyond his powers of imagination. It isn't beyond the power of America to make a buck off any person, place, thing, animal, vegetable or mineral. Jeff divides America in chumps and con-men, and if you have to ask which one you are, then enjoy the cheese.
According to his contacts on LinkedIn, Jeff Dorchen can do just about anything. He's a visual artist, songwriter/musician, actor, essayist, poet, playwright and screenwriter.
---
Producers Daniel Cox and Alexander Jerri talk bunuelos and Bánh mì behind the scenes.
Comments
comments