790: House of Shards Shows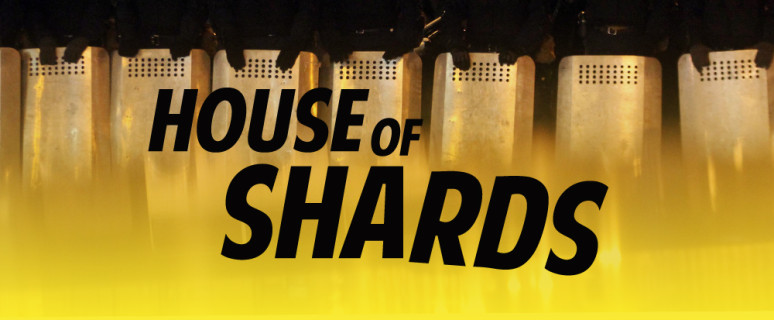 March 8th – Fighting back is a lot easier when you can tell the good guys from the bad guys. When you can't, just aim for the guys with the more expensive weapons. Bitter, blind, broke, gap-toothed radio host Chuck Mertz just aims to make it through another Saturday morning.
Podcast: Play in new window | Download
Guests:
Correspondents:
---
Nicolai Petro: "I've seen Ukrainian constitutional scholars be perplexed as to which constitution we are actually under. And this was weeks ago."
What just happened in Ukraine didn't just happen. Not last week, or 4 months ago, or even 3 constitutions ago. Live from Odessa, Nicolai Petro breaks down the crisis from multiple angles – constitutional, political, sociological – and looks at the past internal struggles and the potential futures of popular governance in Ukraine.
Nicolai Petro is professor of comparative and international politics at the University of Rhode Island and a current Fulbright Research Scholar in Ukraine. His latest article, Threat of Military Confrontation Grows in Ukraine, is up at The Nation's website.
---
Henry Giroux: "Public schools are under assault in ways we have never seen in this country. And it's not because they're failing – it's because they're public."
This was supposed to be an interview about how neoliberalism poisons higher education, but it turned into an interview about how neoliberalism poisons everything – our thoughts, our values, our democratic system. Henry Giroux just lays waste to the privatization of the public good, explains why an education is more than just a line on a resume, brings up C. Wright Mills and Hannah Arendt, tears down the toxic version of freedom pushed on us by the ruling class.
Author and cultural critic Henry Giroux holds the Global Television Network Chair in English and Cultural Studies. Henry's newest book is Neoliberalism's War on Higher Education.
Interview Transcript via AntiDote.
---
George Ciccariello-Maher: "People in the Chavez and now Maduro government who lived through the 70s, 80s and 90s think that it's incredible anyone is referring to this as human rights abuse, because they experienced human rights abuse – often at the hands of the people running these protests."
If the fall of the Soviet Union in 1989 marked the triumph of global neoliberalism, nobody invited Venezuela to the victory party. 25 years after Venezuelans launched the first major public revolt against neoliberal policies and set a new course for South American politics, a new generation of protestors are back out on the streets. For the wrong reason, according to George Ciccariello-Maher. He explains how the new protest movement aims to roll back the tide of Chavismo and put power and money back into the hands of wealthy elites.
George Ciccariello-Maher is an assistant professor of political science at Drexel University, the author of We Created Chávez: A People's History of the Venezuelan Revolution, and the recent Nation piece #LaSalida? Venezuela at a Crossroads.
Interview Transcript via AntiDote.
---
 John K. Wilson: "This notion that politics is something to be banished from the classroom is not just a threat to freedom of speech, but it's also a threat to our political dialogue."
So there's a bill in Illinois that would remove ALL PUBLIC FUNDING to any university who pays for an employee to attend a conference of an academic group that has endorsed a boycott of Israel. How's that for campus radicalism? John K. Wilson explains what that (poorly written) bill means for free speech on campus, fills us in on the recent UIC faculty strike and explains why the rise of college administrators means an educational system concerned more with the whims of the 1% than educating the rest of us.
John K. Wilson is the co-editor of Academe blog, the editor of Illinois Academe, and the author of 7 books, including The Most Dangerous Man in America: Rush Limbaugh's Assault on Reason and President Barack Obama: A More Perfect Union. John just published an interview with civil rights hero Rev. Joseph Lowery.
---
Brian Foley: "We are almost propagandized into thinking that one of the roles of the US is to be this punisher on the world stage."
We love punishing people in America. And outside America. There's something morally satisfying about it, as long as we don't look too close at the problems our punishment causes, on the victims and the perpetrators. Brian Foley has been working on a law review article on the Eighth Amendment, morality and retribution, and he gives us his thoughts on American punishment – from our overcrowded jails to our overbombed battlefields. He also floats the plan of buying out problematic leaders and lays out the problem with tiny French breakfasts.
Irregular Correspondent Brian Foley is a legal scholar and stand up comedian. Naturally, he lives in Florida, where comedy meets the justice system. He is the author of A New Financial You in 28 Days: A 37-Day Plan.
---
Jeff Dorchen: "But nothing makes the hyper-advanced alien federation currently observing the development of our species more seriously consider the option of eradicating us than commercials about credit scores…"
After accidentally seeing an advertisement on television, Jeff Dorchen becomes an unwitting character in our grand cultural story, disappoints our alien watchmen, runs afoul of Equifax, Experian and TransUnion, and develops a ranking of all human factors, from body odor to luminosity of sweat.
According to his contacts on LinkedIn, Jeff Dorchen can do just about anything. He's a visual artist, songwriter/musician, actor, essayist, poet, playwright and screenwriter. He's also an amateur scholar of Judaic, Hindu and Japanese spiritual lore. His many unfinished novels are still unfinished.
---
Producers Alexander Jerri and Richard Norwood win a 90 second battle against an anti-Ukrainian mixing board.
Comments
comments