772: Scams and Shadows Shows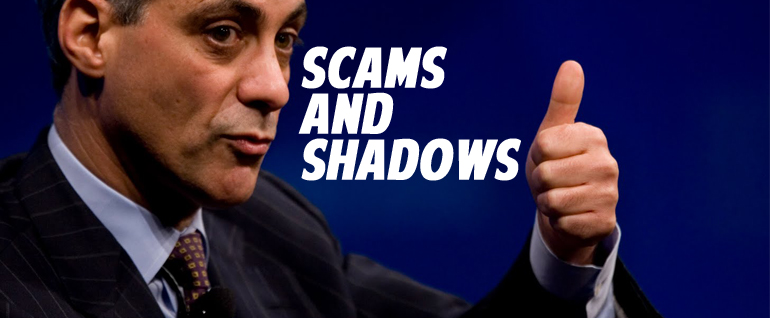 Podcast: Play in new window | Download
Margaret Flowers: "We're being scammed into accepting a more complex, market-based system that has been proven to not work – but not only that – this is setting the stage for our social insurance to become more privatized."
The Obamacare website will get fixed, but health care in America is going to stay broken. The Affordable Care Act is not a bandage over our current health care system, or a bridge towards universal coverage. It's a scam. That's what Dr. Margaret Flowers and past TiH! guest Kevin Zeese write in their  Truthout op-ed Obamacare: The Biggest Insurance Scam in History. She joins the show to discuss the mechanics of the con we just bought in to.
Margaret Flowers is a pediatrician, she serves on the coordinating committee of the Health Care is a Human Right Campaign-Maryland, and co-hosts the radio program Clearing the FOG. She's on twitter at MFlowers8.
[Slight phone problems during the first part of the interview - stick with it, we get it fixed, plus there's so much great information in this segment.]
---
Kari Lydersen: "Even to the degree that he does respect some of these groups or leaders, if they're not 100% behind him, then he's bound to ignore them or discredit them because he doesn't like any kind of opposition."
Rahm Emanuel won the 2011 Chicago Mayoral election with 55% of the vote. Since then, how many of those Emanuel voters have had their unions attacked, or saw their children's schools closed? The answer doesn't matter, because those people don't really matter. Kari Lydersen is the author of Mayor 1%: Rahm Emanuel and the Rise of Chicago's 99%.  She calls in to talk about Emanuel's first term and what it tells us about power, access and priority in post-Daley Chicago.
Kari Lydersen is a Chicago-based journalist and educator. She's written for Crain's Chicago Business, In These Times, The New York Times Chicago edition and basically anything on newsprint in Chicago. She is currently a research associate for the Medill Watchdog Project at Northwestern University. You can see Kari speak on a panel about the mayor, buy her book, meet her, and presumably drink beer at the launch party for the book on November 19th at Haymarket Pub & Brewery.
---
Natasha Lennard: "It was an internal memo about how to deal with press relations around this NSA scandal, and NSA offices and agents were explicitly told to use 9/11 as a – I quote this word "soundbite."
All information is fair game. That's the lesson from the NSA scandal. Of course at first it was just conversations between jihadis, until we learned that it was just conversations between suspected jihadis overseas and anyone in the US, until we learned that it was almost all conversations between anyone and everyone in the US. And the world. After the Snowden leaks, we finally get to listen in on the NSA's secrets. Natasha Lennard is listening, and her work at Salon is a valuable look at what happens when a government convinces itself that everyone is fair game.
Natasha Lennard is an assistant news editor at Salon. She's written for the New York Times, Truthout and The New Inquiry. She is obviously on Twitter, at NatashaLennard.
---
Edward Shorter: "And once you as a physician accepted the idea that depression was as common as grass, then that prescribing pen would naturally start to write out Prozac and Zoloft and all the others."
Depression is not a monolith. It is not a singular malady, to be understood and treated as a singular malady. That's big news to a culture that diagnoses the illness so often, and accepts it as a by-product of the modern age. Depression has a long history, and understanding that history is important in understanding depression. Dr. Edward Shorter understands that history, and talks with Chuck about how "nerves" became depression, shock therapy's new popularity, and advertising's role as physician.
Edward Shorter is an internationally recognized historian of psychiatry and the author of numerous books, including A Historical Dictionary of Psychiatry and Before Prozac . He is the Jason A. Hannah Professor in the History of Medicine and a professor of psychiatry at the University of Toronto.
---
Mark Danner: "The Iraqis – government and people – are supporting both sides of the Syrian civil war. And this is a legacy of the US war in Iraq, and what a disaster it was for American interests and for the Iraqis."
The Obama administration's response to the Syrian civil war had been almost as difficult to predict as the conflict itself. We've had feints, stray remarks, red lines and unintentional corner-painting. The White House might not be able to offer a clear vision of America's role in the Syrian conflict, but we have Mark Danner on the show to sort the known knowns from the known unknowns. Mark just wrote Syria: Is There a Solution? for The New York Review of Books.
Mark Danner is a journalist who has covered foreign affairs and conflicts for The New Yorker and The New York Review of Books. He is the author of books about war, torture and Florida's voting system, the most recent of which is Stripping Bare the Body: Politics Violence War. Mark is currently Professor of English, Journalism, and Politics at the University of California at Berkeley, and James Clarke Chace Professor of Foreign Affairs, Politics, and Humanities at Bard College. You can read more of Mark's work on his website.
---
Will Lynch: "Everyone's come to the conclusion that the only reason for bringing in this measure of cutting social welfare for people under 26 is to encourage them to emigrate."
Because this is a Will Lynch segment, you will hear Our Man in Dublin talk about Irish politics, civil disobedience, revolution, austerity policies, and Chris Hedges. Because this is a Chuck Mertz interview, you will hear about the time Chuck did quaaludes and woke up on somebody's roof. You truly can't find this kind of journalism anywhere else.
---
Dan Litchfield: "They're gonna redistribute the wealth to your community, away from the oil fields of Venezuela and Alaska. I would think that local politicians would get behind that."
Dan Litchfield can never truly escape his past as the Automan, and so he begins this installment of the Alternate Current talking about retro-modding old cars into new, greener rides. Then we learn what happens when ALEC gets involved in state energy policies, and when coal gets involved in EU energy policies, and the future of renewable energy in Saudi Arabia.
---
Jeff Dorchen: "If you were an ancient Etruscan trick or treater, you would have threatened 'Treat or else! Treat or else!"
Jeff Dorchen emerges from a pile of candy wrappers to deliver a post-Halloween, fun-size Moment of Truth. Sadism is considered, saliva is cleaned, facial hair is glued on.
---
Comments
comments