769: Enemies Forgotten and Imagined Shows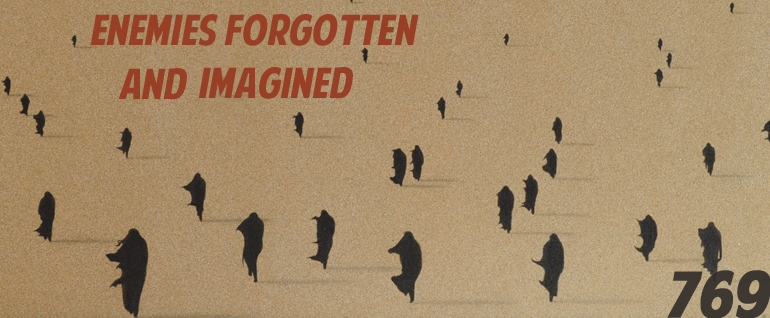 Podcast: Play in new window | Download
GUESTS:
Ann Jones: "We have been chiefly responsible for imposing this renewed oppression of women on Afghanistan."
Writer Ann Jones returns from the end of Afghanistan with stories of waste, neglect and futility. She has spent much of the last decade in the country, writing about the war's effects on women, politics and human rights. She talks with Chuck about how Islamic extremism found a home in Afghanistan, why 'women's rights' was never a goal of the invasion, and the American bureaucratic machine that drives us to wars across the world.
Ann just posted The Forgotten War: 12 Years in Afghanistan Down the Memory Hole at TomDispatch. Her newest book, They Were Soldiers: How the Wounded Return from America's Wars, will be released next month.
---
Juan Cole: "I don't understand why the Secretary of State would demand the UN be allowed to inspect a facility that the UN has been regularly inspecting all summer."
When you have a hammer, every problem looks like a nail. When you have a massive military-industrial complex, every problem looks like… Iran? Historian, professor and blogger Juan Cole looks at Iran through Netanyahu-colored glasses and sees conflict, mis-direction and repetition.
Juan writes about the Middle East and American politics at Informed Comment.
---
Dana Becker: "We want to work on things when we can get immediate results, look at Congre-  ugh, don't look at Congress."
America's large scale social and political problems might be devouring us from the inside out. Writer Dana Becker explains how America's long held values of self-determination and individualism might be causing the middle class has to focus on internal symptoms of an external illness. She blames stress. Or, rather, the very concept of stress, in her book One Nation Under Stress: The Trouble with Stress as an Idea.

Dana is a professor of social work at Bryn Mawr College and a contributor at Time.
---
Andy Worthington: "Either this is incompetence on a huge scale, or it's a glimpse at Guantanamo's version of what's happening in the surveillance state in general."
If Franz Kafka had access to 21st century technology, we could have booked him on the show to talk about the military commission trials of Guantanamo detainees. Defense files are given to the prosecution, the FBI spies on meetings between lawyers, and charges are sought against only 2.5% of total detainees at the site. Kafka wasn't available to comment, but investigative journalist Andy Worthington knows the alienation and farcical nature of authority better than anyone outside Camp X-Ray's walls.
Andy just published At Guantanamo, a Microcosm of the Surveillance State at Al Jazeera. Andy is co-founder of the Close Guantanamo campaign and author of The Guantánamo Files: The Stories of the 774 Detainees in America's Illegal Prison.
---
IRREGULAR CORRESPONDENTS:
Jim Naureckas: "As a politician, you know that no matter what you do, the people explaining what you're doing to the public at large are gonna say that it's both sides' fault."
Jim Naureckas delivers a government shutdown-propelled Bulletin to the Head. He calls in to explain how the media could be neutral and still blame parties for their actions, how honesty killed the Hillary Clinton documentary, and who's filling DC think tanks with cash.
Jim has been the editor of Extra!, the monthly magazine of the media watch group Fairness & Accuracy In Reporting, since 1990. He is the co-author of Way Things Aren't: Rush Limbaugh's Reign of Error, and co-editor of The FAIR Reader: An Extra! Review of Press and Politics in the '90s. 
---
Trevor Ewen: "We're working on this thing that I like to refer to, somewhat unlovingly, as the One True Solution."
Trevor Ewen just got married. Mazel Tov! Arrosiat Mobarak! Felicitaciones! He gives a post-nuptial View from the County Incinerator on tech paradigms, newborn Radians, nerd wars, how Syria isn't Northern Ireland, and maturing as a programmer. Also, he lets slip a secret about when Chuck finds time for pee-breaks during four hour broadcasts.
Trevor is an entrepreneur, a tech-slave by day, and a southern barbecue meat smoker by night/weekend-day.
---
Jeff Dorchen: "I'm on the side of the crazy people in this case."
Jeff Dorchen delivers a garbled Moment of Truth either from a borrowed cellphone somewhere in central Illinois, or the bottom of a lake. Either way, you can view it as a commentary on technology and humanity's inability to really, really, connect. It's not too bad, stick with it to learn why the man who set himself on fire in DC just might have been the most sane person in the city.
Jeff has been a correspondent on This is Hell! since way back in 1997. According to his contacts on LinkedIn he can do just about anything. He's a visual artist, songwriter/musician, actor, essayist, poet, playwright and screenwriter. The Chicago theater company he co-founded, Theater Oobleck, is celebrating its 25th anniversary. His many unfinished novels are still unfinished.
---
Producers Alexander Jerri and Seth Kelley solve headphone problems and dodge nostalgic Northwestern alumi in town for homecoming.
Comments
comments